Recruitment home
Looking after our people
Making EA Technology a great place to work
Our Values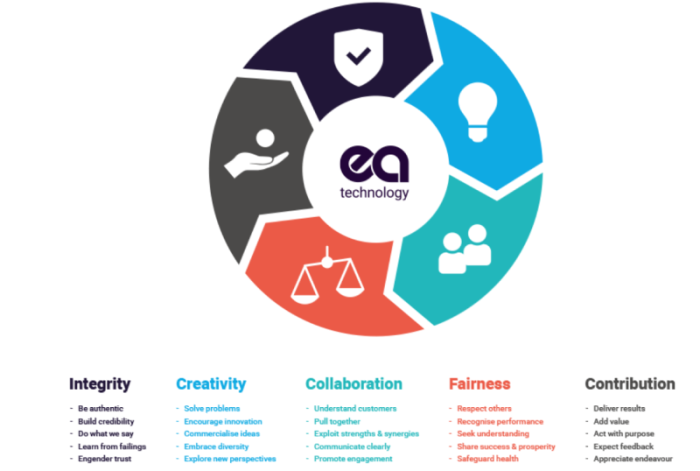 Our Benefits
Financial
Salary
Our salaries are benchmarked against market trends to ensure that we are competitive to attract and retain the best people.
We are proud as an organisation that we operate in a way which allows us to reward individual performance and provides a way to progress.
Pension
EA Technology employees are automatically enrolled in the Aegon Retirement Choices (ARC) which is a defined contribution, occupational pension scheme with an optional salary sacrifice arrangement as the mechanism for paying pension contributions. EA Technology currently contributes at the rate of 8% of your basic salary.
Flexible insurance benefits
We offer private medical insurance, critical illness and income protection cover.
Our group life cover would ensure that your beneficiaries will receive a lump sum which is currently three times your annual salary.
Holiday exchange
Our holiday exchange scheme allows our employees to request to buy up to an additional five days holiday entitlement or sell up to five days of their holiday entitlement each year.
Professional fees
We will pay for one of your membership fees as long as it is relevant to the discipline you have and your role overall.
Cycle to work scheme
Basically, we buy the bike and safety equipment that you choose up to the value of £1,000. We then loan these back to you over an agreed period taking the payments from your monthly salary credit through a 'salary sacrifice' arrangement. You effectively pay no tax or National Insurance contributions on these amounts, which means you can save up to 42% on the value of the bike and accessories (depending on the level of tax you pay).
Health and Wellbeing
Flexible working
Work-life balance is important to us and we understand that working traditional office hours doesn't always suit. Where possible our employees can sometimes work part time, compressed hours, home working and job shares. We support our employees to achieve the work-life balance that works for them.
Employee Assistance Programme (EAP)
Our employees and their immediate families have access to a 24-hour, 365 days a year confidential helpline with information, resources and options to address a wide range of issues both at home and at work.
Occupational sick pay
When you are ill, we offer enhanced sick pay over and above any entitlement to SSP to employees.
Eye tests
If your role requires a lot of time on the computer, you are entitled to a full eye exam every two years. Where special corrective glasses and lenses for regular use of computers are required e.g. DSE spectacles, employees are entitled to claim up to £60 to use against the cost of a basic pair of glasses.
Time away
Annual leave
All of our employees start on 25 days per year plus bank/public holidays. After three holiday years of service your holiday entitlement will increase by one day for each completed three holiday years of service, up to a maximum of 30 days (pro-rated as appropriate for part-time workers).
Family Friendly Policies
Maternity leave
If you have worked with us continuously for 6 months or longer at the 11th week before the week the child is due you will be entitled to enhanced maternity pay.
We also pay up to 10 'keeping in touch' (KIT) days to help you ease back into your job when you return to work.
Paternity leave
If you have 26 weeks continuous service, into the 15th week before the week the baby is due, you will be entitled to two weeks enhanced paternity pay.
Parental leave
After being with us for 12 months and in line with statutory requirements, we will give you up to 18 weeks unpaid leave per child, up to the child's 18th birthday. You can take up to four weeks unpaid leave in any one year in blocks of one week.
Shared parental leave
Our Shared Parental Leave arrangement gives you and your partner more flexibility in how to share the care of your child in the first year after birth than simply taking maternity/paternity/adoption leave. Assuming you are both eligible, you will be able to choose how to split the available leave between you and can decide to be off work at the same time or at different times. You may also be able to take leave in more than one block.
Career break
If you need a break from work and would like the opportunity to have an extended period of travel, do some voluntary work overseas, pursue further education or maybe fulfil personal or domestic commitments and you have been with us for more than two years you may apply to take an unpaid career break of between three and twelve months.
Community workdays
All our employees are offered one day off each year to participate in volunteering with a charitable organisation.
Recognition
Loyalty awards
We also like to celebrate those employees that have been with us for a long time. Our loyalty awards mark 20, 30 and 40 years employment.
Recognition awards
We like to recognise and reward the outstanding work of our employees by having EA Technology recognition awards. We will celebrate these fantastic individuals and teams who make EA Technology such a great place to work.
Learning and Development
Building your career
Providing great development opportunities for our people is really important to us. We have the most amazing teams who all work really hard, so we want to make sure we give them lots of opportunities to learn, grow and basically shine.
With such a diverse range of roles, the opportunities to learn, develop and drive your career is broad.